Add or create background patterns
To set the background texture, click the background icon (1) and set the type menu to image (2).
You can create a repeat pattern easily using a tool like http://bgpatterns.com/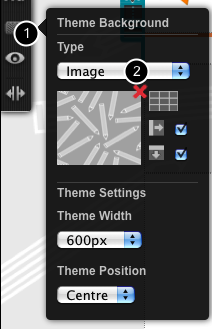 Drag a pattern from the images tab (1) to the image target (2). If you want the image to repeat, tick the boxes for horizontal or vertical repeat (3).
HINT: It's best to avoid using large images in the background - they can make your site very slow to load.
You can download different kind of patterns from here: http://patterns.ava7.com/