The site search widget makes it easy for people to search your site
1. Drag and drop site search widget
Click the widgets tab (1) and then drag the site search widget (2) on to your page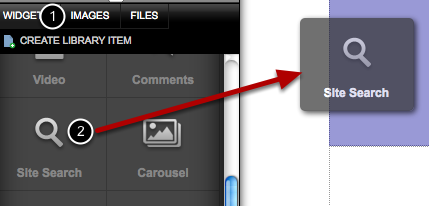 2. Positioning and scaling the site search widget
Click and drag within the widget (1) to move it. Scale the widget by dragging one of the corner handles (2).

3. Set the default text that appears in the search field
Enter text in the Default Text field (1) and click OK (2)

4. Testing the site search widget
The site search widget can be tested in preview mode (1). Type a search term (2) and a few seconds later the search result will appear below the widget (3).