In this example, we will import a youtube video. Other sites are supported (see above).
Are you uploading or embedding?
If you want to add video to your site from YouTube, Vimeo or similar sites, you are embedding the video. You can use the video widget or embed widget for this.
If you want to add a video file to your site from your local hard drive you are uploading the video. You need to upload the video file from the Files tab. See: Uploading a file
Do you need the Video widget or Embed widget?
If the embed code for a video starts with <iframe> you should use the embed widget. If the embed code starts with <object> use the video widget.

1. Get the embed code from YouTube
Click the Embed button (1) and select the Use old embed code button (2). Select a size (3) and then copy the code (4).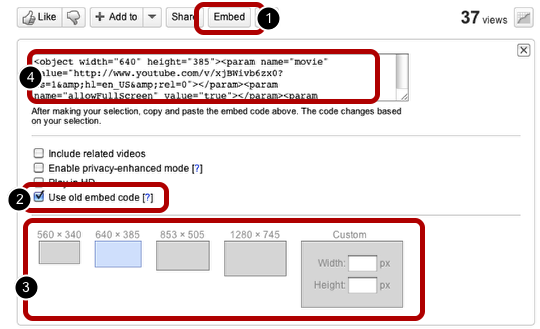 2. Open the settings panel and paste embed code
Click the edit icon (1) to open the settings panel (2). Cut and paste video embed code from YouTube, Vimeo or any other video site into the Embed Code field (3)